Formula 1® Singapore Airlines Singapore Grand Prix 2020
Singapore Grand Prix 2020 has been cancelled. Sign up now for Priority Access to the 2021 edition
Formula 1, along with the race promoter, have announced the Singapore Grand Prix 2020 has been cancelled due to COVID-19. Please see the full press release for more information. Please note the information contained within this page is now for informative purposes only.
If you wish to attend the next race, Singapore Grand Prix 2021 you can sign up now for Priority Access.
Your Singapore Grand Prix 2020 experience starts here. We are pleased to offer a complete selection of Official Singapore Grand Prix Packages to get you to the Singapore Grand Prix with tickets, accommodation, hospitality and more. We hope you'll come with us for an unforgettable experience at Formula 1's incredible night race.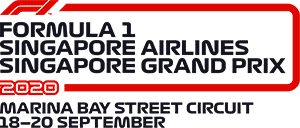 Watch Singapore come alive under a symphony of lights, music and roaring F1® action!
The Singapore Grand Prix™ is the only night race on the FIA Formula One World Championship™ calendar and is held on the Marina Bay Street Circuit in the heart of downtown Singapore. Marina Bay was the first circuit to hold an F1® event in Asia back in 2008 and the Grand Prix has since become a mainstay on the ever-evolving F1® calendar—and for many good reasons!
Read more
Read less
Firstly, Singapore knows how to put on a show and the Singapore Grand Prix™ has become synonymous with entertainment, music, dazzling fireworks and incredible light shows. Each night after the races, world-class bands, singers and DJ's perform live on amazing stages around the circuit. Past acts have included Justin Bieber, Kylie Minogue, Queen, Bon Jovi and many more! Expect 2020 to be another huge year of entertainment.
Secondly, the circuit itself is jammed into the twisting streets of Singapore around Marina Bay, where over 100,000 fans watch the F1® cars blast around the tight turns on a bumpy street surface under lights. From many of our top hotels, it's only a short walk to the circuit and depending on whether you choose a Grandstand Ticket or Hospitality Package, we can recommend hotel options to make track access even easier!
Finally, entertainment and racing aside, Singapore is a unique and exciting city, rich in history, culture, food, shopping and nightlife. Singapore is only 5-7 hours from Australia, so it's a sensible destination for a quick holiday in the warmth and sunshine with superb attractions you need to see including Gardens by the Bay, Marina Bay Sands, Raffles and much more.
As a proud Authorised Provider for Singapore Grand Prix™, we are happy to offer a range of Official Travel Packages including quality 4-star and 5-star accommodation, tickets (including Grandstands and Hospitality) plus other travel services including flights and sightseeing experiences. We have options for individuals, groups and corporates and for all styles and budgets.
I'd like to encourage you to explore this brochure to find out more about your Singapore Grand Prix™ travel experience and our Singapore Grand Prix Packages. Then get in touch with our team who are waiting to get your trip started.
We hope you will trust us to deliver an exceptional travel experience to Singapore Grand Prix™ 2020!
Ready for an unforgettable experience?
Feel secure with 100% guaranteed official tickets, grandstand seating and hospitality
Feel like a VIP with deluxe tours, luxury accommodation and unique race experiences
Travel confident with transparent pricing, accreditations and flexible travel
Formula 1® Singapore Airlines Singapore Grand Prix 2020
Combi Grandstand Tickets are great for those wanting different views of the circuit each day
Head to Gardens by the Bay early, it's quieter and often cooler in the mornings
Pack light-weight clothes, humidity is often high
Public transport is great in Singapore and is the most cost-effective way to travel around
Don't litter, it's illegal and could result in a hefty fine
Tipping is not custom in Singapore, though you may be charged a 10% service fee in some places — lookout for 'plus-plus' or '++' symbols
If you can't find the right Singapore Grand Prix Package, ask our Travel Experts about creating a custom-made package, just for you
Circuit Map
Fast Facts
Circuit: Marina Bay Street Circuit
Dates: 18-20 September 2020
Length: 5.063 km
Laps: 61
Race Length: 308.706 km 
Lap Record: 1:41.905 (Kevin Magnussen, Haas Ferrari in 2018)
2019 Winner: Sebastian Vettel, Ferrari
2019 Runner-Up: Charles Leclerc, Ferrari
2019 Pole Position: Charles Leclerc, Ferrari
Support Categories: Coming soon
Race Schedule: Coming soon
2020 Entertainment Lineup: Coming soon
Official Tickets
As an Authorised Partner of Singapore Grand Prix we are proud to include 100% guaranteed tickets with all of our travel packages, so you can book and travel with confidence
Grandstands & Hospitality
Grandstands are a fantastic way to enjoy the Singapore Grand Prix, offering elevated views of Pit Straight, the team garages and all the important Turns. For a more premium experience upgrade to a hospitality package offering in-suite entertainment, food and beverages and the ultimate race track views
Stay
We have been taking fans to Singapore Grand Prix since 2008, so we know the best places to stay. Whether you're after a luxurious 5-star experience or want to be as close as possible to the track, we have a property for you
As Singapore is situated near the equator, it's typically a tropical climate with high rainfall and warm, humid weather. In September, you can expect highs of 30C and lows of 24C with a moderate chance of rain. Pack your sunscreen and a hat for day-time activities and a light jumper for circuit-side comfort.
Singapore is a unique and exciting city, rich in history, culture, food, shopping, and nightlife. Singapore is only 5-7 hours from Australia, so it's a sensible destination for a quick holiday. Enjoy the warmth and sunshine while exploring the superb attractions including Gardens by the Bay – Singapore's 21st century botanical garden of fantasy! Hawker food is a must when visiting Singapore; fragrant smells, lively sounds and delicious food create a wonderful atmosphere for a fun night out. The town is also renowned for the Singapore Sling, a cocktail originating from Raffles Hotel and made famous in Hollywood films; it's the perfect accompaniment to this humid climate.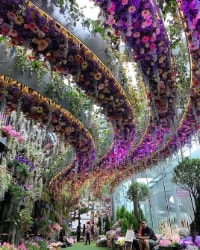 Gardens by the Bay
Singapore's 21st-century botanical garden is a fantasy land of biodomes, Supertrees and whimsical sculptures. Enjoy light shows, world-class restaurants and mesmerising themed gardens that capture the imagination and offer a glimpse into the future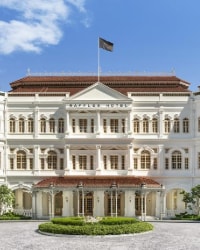 Raffles Hotel
Raffles is not only the finest hotel in town, and possibly one of the most revered hotels on the planet, it is a cultural icon that finely exhibits Singapore's history. While non-guests cannot explore the hotel itself, visitors can enjoy the Long Bar, famed for creating and popularising the Singapore Sling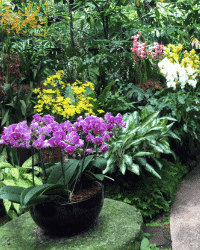 National Orchid Garden
Singapore's Botanical Gardens are worth a visit on their own, but the hidden gem is the National Orchid Garden found on the highest hill of the gardens. Inside there are 600 species of orchids on display with seasonal zones categorised by different coloured orchids
National Gallery of Singapore
Singapore's historic City Hall and Old Supreme Court buildings have a new function, housing a world-class collection of 19th-century and modern Southeast Asian art; enabling a greater understanding of how Singapore's unique culture has formed from pre-colonial, colonial and post-colonial eras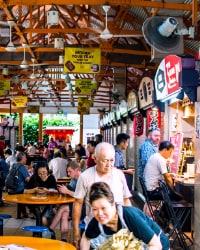 Hawker Food
Singapore's hawker food is the stuff of legends and widely popularised by celebrity chefs including Anthony Bourdain. Enjoy the fragrant smells, lively sounds and down-right delicious stalls, some of which boast two Michelin stars
Get updates to your inbox