After missing the first few rounds of the NRL season due to COVID-19 restrictions, the 2020 NRL season restarted 28 May 2020 and will continue to the NRL Grand Final on 25 October at ANZ Stadium, Sydney.
This NRL Grand Final will be one-of-a-kind and if you're itching to be there to experience the energy and excitement live, you can with Events Travel.
We have a limited supply of Official NRL Grand Final 2020 Packages available now including tickets from all categories, Silver, Gold, Platinum, and Diamond. Choose from either a 2-night package to make a weekend of it, or request a shorter 1-night package staying in the Sydney CBD or near ANZ Stadium. As always, our Travel Experts can create a customised experience for you with extra nights, flights, transport and other travel services. We hope to see you there!
Packages are now sold out. Join the waitlist for NRL Grand Final 2021!
Short on time? 1-night packages are available on request staying in the Sydney CBD or near ANZ Stadium

FROM

sold out

Make a weekend of it and stay for 2-nights in Sydney at a quality 4-star hotel

FROM

sold out
NRL has confirmed the 2020 Grand Final will be played at ANZ Stadium Sydney in front of 40,000 fans on Sunday 25 October.
"ANZ Stadium is the biggest venue in NSW and that means more of our fans will be able to experience grand final day live," NRL chief executive Andrew Abdo said.
"This year will be a historic grand final day. The teams competing would have overcome all challenges in front of them and we will experience the culmination of a season like no other.
"We can't wait to see 40,000 fans at the venue. Our fans have been so patient and loyal throughout the season and having crowd caps increase for the Finals Series is the perfect way to acknowledge that loyalty."
ANZ Stadium will be the perfect venue to host one of the biggest sporting events on the 2020 calendar and ending what will be a historic season after a challenging year for all.
If you're itching to be there to experience the moment live and embrace the energy and excitement, we have Official NRL Grand Final 2020 Packages including tickets and accommodation now available. Get in quick, it's going to be a hot ticket.
Packages are on sale until 17 October or until sold out.
What's on offer from Events Travel?
Event: NRL Grand Final 2020 tickets (Silver, Gold, Platinum, and Diamond)
Flights: All carriers and destinations
Accommodation: Extra nights, room upgrades and more
Transport: Coaches, private transfers and car hire
Sightseeing: Attractions, day trips and organised tours
Custom-made Packages: For individuals and groups of all sizes, including corporate groups and incentives
Travel Insurance: Domestic and international policies, including a 15% off base policy discount for Australian residents
Your Host:
When a foreigner talks of Australia, Sydney is what springs to mind and that's thanks to the expansive harbour, beautiful beaches and world-renowned landmarks; including the Sydney Harbour Bridge and Sydney Opera House. Sydney is visually beautiful and has a loud, dazzling atmosphere not found in Australia's other capitals. Anything goes in Sydney and everything usually does.
Currency
Australian Dollar
Climate
During October in Sydney expect average highs of 22°C and lows of 14°C. Rain is expected on only 7-days within the month. The climate at this time of year is pleasant during the day and cool at night, overall a great time of year to visit Sydney
Sydney Harbour
One of the world's biggest and most beautiful natural harbours is as much a part of the city as the city is a part of it. Explore the harbour on a private tour or commute across it to the zoo, Manly or other destinations by ferry
Sydney Opera House
The world-famous landmark and performing arts centre plays host to the world's biggest artists, composers and orchestras; as well as local Australian talent. Tours, experiences, dining and a gift shop are all available to you
Sydney Harbour Bridge
One of the world's most photographed landmarks and the focal point of the city that connects the North Shore to the CBD. While photographs of the bridge are nice, that's nothing compared to the view from the top. That's if you're not afraid of heights
Bondi Beach
Just 20 minutes from the CBD is the world-famous Bondi Beach, where visitors and locals are treated to stunning views, golden sand, buzzing nightlife, restaurants, bars and reliable surf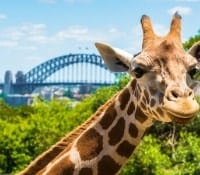 Taronga Zoo
Australia's biggest zoo is located on the northern edge of Sydney Harbour and is accessible by road or ferry and makes for a great day out. Enjoy exploring over 21 hectares of enclosures with animals from all continents with a gorgeous city and harbour backdrop
Blue Mountains
For those looking to get out of the city to explore Australia's iconic bush, look no further than the Blue Mountains. Due west of Sydney, the mountain range is home to steep cliffs, tall forests, waterfalls, charming villages, gardens and hiking trails perfect for a multi-day adventure
Have questions? We have answers.