Cathay Pacific/HSBC Hong Kong Sevens 2020
This event has been cancelled for 2020 due to COVID-19. Sign up for Priority Access to the 2021 edition
World Rugby has announced the cancellation of the remainder of the HSBC World Rugby Sevens Series, including Hong Kong Sevens 2020. The next Hong Kong Sevens will be back at the usual weekend of 2-4 April 2021. If you'd like to be there, Official Packages are now available
Note: The information within this page is now invalid and has been left here for informative purposes only. See the 2021 event listing for updated information.
Your Hong Kong Sevens 2020 experience starts here. As a proud Official Travel Agent with 27 Hong Kong Sevens under our belt, we are pleased to offer a complete selection of Hong Kong Sevens Packages to the 2020 edition of the event. Packages include 3-day Hong Kong Sevens tickets, accommodation, Official Hospitality, functions, merchandise and optional travel services. After a sporting hiatus, Hong Kong Sevens will be one of the most anticipated events of 2020 and we hope you'll join us.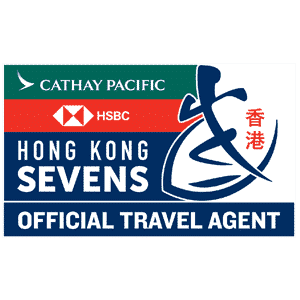 This year's Hong Kong Sevens has moved to 16-18 October 2020, making it now the final leg of the HSBC World Sevens Series.  The rescheduling means the Hong Kong Sevens will take place the weekend after the Singapore Sevens—combining both events would be the ultimate Rugby Sevens trip and we can make it happen for you!
The Hong Kong Sevens is the world's biggest Rugby Sevens festival and one of our favourite annual events. The action takes place at Hong Kong Stadium, jammed between skyscrapers and lush mountains on Hong Kong Island. Over the weekend, 120,000 energetic fans from around the world make the pilgrimage to enjoy the festivities; making the atmosphere energetic, lively, and truly unique to the Hong Kong Sevens.
Read more
Read less
The rugby is fast-paced and high scoring with quick turnovers; it's three-days of exciting rugby with short back-to-back, 14-minute matches. If you're a newcomer, the South Stand has a strong reputation as the most 'energetic', with dress ups, sing-alongs and antics providing entertainment for those within and those looking on. Dress ups are encouraged for all! The Sevens is known for entertainment, music is played in between matches and huge performances from the likes of Madness, The Village People, Gwen Stefani and The Beach Boys, makes the atmosphere electric.
As an Official Travel Agent, we can help you get to the Hong Kong Sevens with our Official Packages including Tickets, Hospitality, accommodation and other travel services (flights, transport and sightseeing). We have hand-chosen our hotels on Hong Kong Island for convenience, comfort and quality from budget all the way to the best 5-star luxury hotels available using our 26-years of experience helping fans enjoy this fantastic event.
We hope you'll join us for the next edition of the Hong Kong Sevens in 2020!
Explore the brochure for more information our Hong Kong Sevens Packages.
Ready for an unforgettable experience?
Feel secure with 100% guaranteed official tickets and priority seating allocations
Feel like a VIP with deluxe tours, luxury accommodation and unique experiences
Travel confident with transparent pricing, accreditations and flexible travel
Cathay Pacific/HSBC Hong Kong Sevens 2020
For an extra special Rugby Sevens experience, combine both Hong Kong Sevens and Singapore Sevens together for the ultimate week of rugby
For first-timers, we recommend spending some of your time in the South Stand for a unique spectator experience!
Hong Kong has a lot to offer, take some time to explore Kowloon's markets and museums, Central's restaurants and nightlife and go up to Victoria Peak for incredible panoramic Hong Kong views
If you can't find the right Hong Kong Sevens Package for you, ask our Travel Experts about a custom-made package
Firmly established as the world's premier sevens event and one of the most popular annual sporting events in Asia, the Hong Kong Sevens attracts some of the world's greatest rugby players and thousands of fans from every corner of the globe. It is a fast and furious festival of rugby combined with a carnival atmosphere and heightened stakes with World Rugby's highest price purse up for grabs.
From kicking off with 12 teams in front of 3,000 people at the Hong Kong Football Club in 1976, to today's three-day extravaganza of international rugby revelry with 40 teams playing in front of 120,000 spectators, the Cathay Pacific/HSBC Hong Kong Sevens truly is 'Where the World Comes to Play.'
2019 Match Schedule PDF  (to be updated for 2020)
2019 Results
Cup Winners: Fiji
Cup Final: Fiji (21) v (7) France
Plate Final: Argentina (21) v (14) New Zealand
Bowl Final: Scotland (26) v (24) Japan
Shield Final: Spain (19) v (14) Wales
Qualifier Final: Ireland (28) v (7) Hong Kong
Participating teams:
HSBC Sevens World Series
Argentina, Australia, Canada, England, Fiji, France, Japan, Kenya, New Zealand, Portugal, Samoa, Scotland, South Africa, Spain, United States of America, Wales,
Official Tickets
Events Travel is a long-standing and proud Official Travel Agent for Hong Kong Sevens. Our packages include guaranteed official tickets so you can rest-assured and travel in confidence
Hospitality
Take your Hong Kong Sevens experience to the next level with exclusive hospitality and reserved seating. Choose from executive suites, premium or corporate boxes or close-up reserved seating to guarantee an unforgettable experience
Stay
We have been selling packages to the Hong Kong Sevens for nearly 30 years, so we know the best places to stay. Our properties offer value, convenience and comfort to ensure you have the ultimate Hong Kong Sevens experience
October is Autumn in Hong Kong and one of the best times to visit. The days are sunny and largely clear with temperatures reaching 28C during the day and averaging 23C at night. While it may feel cooler due to the lower humidity the UV Index is still quite strong, so be sure to pack your sunscreen!
Hong Kong is Asia's World City and is culturally diverse; its rich colonial past is displayed throughout the city's modern galleries, museums and architecture. Hong Kong is one of the world's finance and business hubs and is becoming renowned as the shopping and food destination of Asia. We love Hong Kong for its entertainment value; with pubs, clubs and restaurants on Hong Kong Island coming alive during the Sevens. Visitors will enjoy a relaxed atmosphere throughout the city, as locals welcome visitors from around the world. Hong Kong is a fantastic destination for sightseeing. The dramatic landscape features sprawling buildings and lush green spaces (over 70% of Hong Kong is jungle!) with the stunning Victoria Harbour separating Kowloon and Hong Kong Island. Explore hidden scenic hikes, beautiful beaches, markets and an amazing food scene—including the world's cheapest Michelin star restaurant in North Point. There is something for everyone in this unique city
Victoria Peak Tram
Experience breathtaking panoramic views from 552 metres above sea level. Victoria Peak can be reached by taking the historic Peak Tram which has been taking visitors to the top since 1888. The cable-hauled tram takes just 8-minutes to climb the 396m ascent. Once you reach the top, enjoy 360-degree views over Hong Kong's skyscrapers, harbour and jungle
Hong Kong Trail
Hong Kong Trail is a 50km walking track that starts at Victoria Peak and ends in Big Wave Bay, offering a variety of longer and shorter trails. Dragon's Back Trail is situated on the last leg of the Hong Kong Trail and meanders along the ridge of Dragon's Back. Shek O Road and Shek O Peak are shorter options but offer equally stunning views of Hong Kong and surrounds. The trail can be easily accessed by bus or taxi
Star Ferry
Experience world-famous Victoria Harbour by taking a short trip on the historic Star Ferry, taking you from Central Hong Kong to Kowloon. Some of the best views of Hong Kong can be seen from the centre of the Harbour and once you reach the other side enjoy a day exploring shopping malls, the Ladies' Market, Museums, Hong Kong Cultural Centre and local restaurants
Lan Kwai Fong
If you're after a fun night out this is the place to visit. Lan Kwai Fong is an L-shaped cobblestoned lane with 90 plus bars, restaurants and clubs to discover. Once dedicated to hawkers, this central street is now a popular haunt for ex-pats and tourists to enjoy with a more up-market street food and drinking experience
Hong Kong Museum of History
Discover the rich history of Hong Kong at this extraordinary museum. You will be taken on a journey starting 400 million years ago and going right through to the Handover of Hong Kong in 1997. There are 4,000 exhibits here including an entire arcaded street from 1881. It's a stunning story of Hong Kong's attempt to define itself throughout history
Sign up for Priority Access to Cathay Pacific/HSBC Hong Kong Sevens 2021